Whether you're bolting off the line on the track or taking a sharp turn on the road, the 2023 Dodge Charger Widebody features 20x11-inch Pirelli® tires that improve straight line and lateral grip. Available on the Scat Pack and standard on the SRT Hellcat Redeye Widebody.
THE FACE OF YOUR NIGHTMARE
---
The 2023 Dodge Charger is no stranger to attention, finished with sleek custom fascias, grille and fender flares to certify its strength on the asphalt.
With an engine this powerful, brakes are just as important. Standard on SRT® models and packaged with Scat Pack Widebody models are six-piston Brembo Brakes and an Adaptive Damping Suspension to help keep you in control.
Supercharged 6.2L HEMI® SRT V8 Engine
3.6L PENTASTAR® V6 ENGINE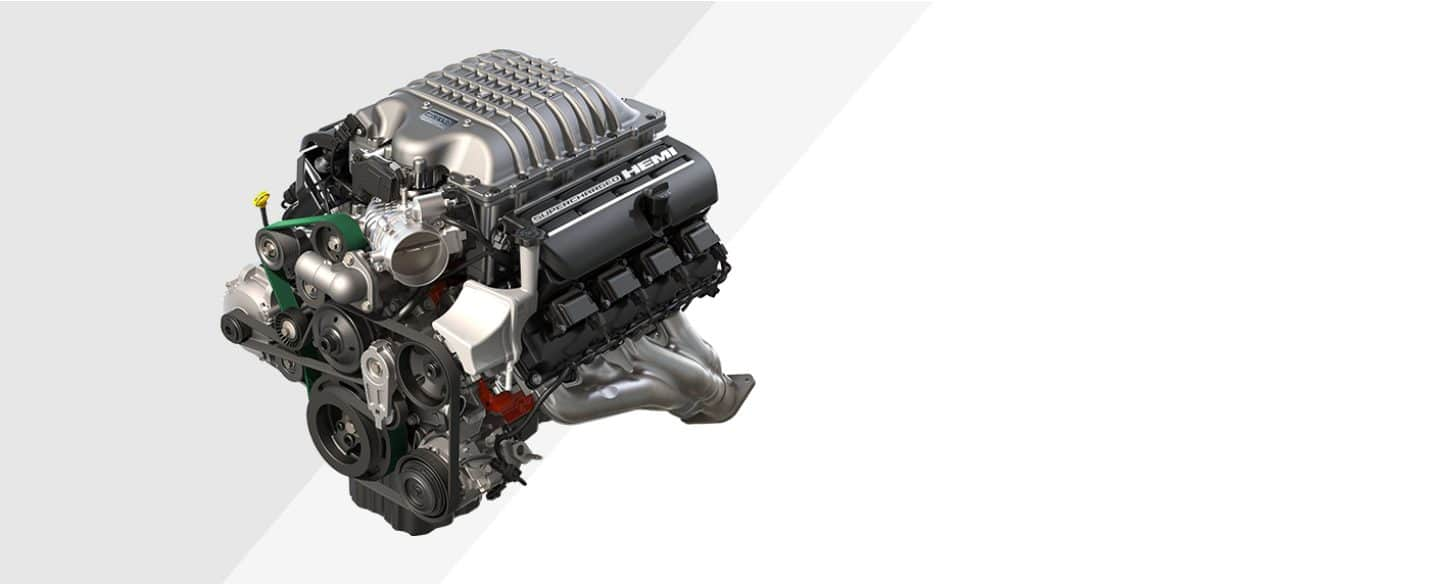 SUPERCHARGED 6.2L HEMI® HIGH-OUTPUT SRT V8 ENGINE
---
Leading the pack comes the only engine brave enough to power the SRT® Hellcat. With up to 797 horsepower and 707 pound-feet of torque, there's nothing tame about this HEMI® V8 engine.
FOUR-PISTON BREMBO HIGH-PERFORMANCE BRAKES  
For improved steering control under adverse conditions or extreme braking situations, add the available four-piston Brembo Brake System.
SIX-PISTON BREMBO ULTRA HIGH-PERFORMANCE BRAKES  
Experience racing-inspired stopping power and maximum control on the open road with the available six-piston Brembo Braking System.
SRT POWER CHILLER®
The available SRT Power Chiller® diverts air conditioning refrigerant from the interior cabin to the chiller unit, which is then directed to the heat exchangers in the superchargers.
After the engine is shut off, the available Race Cooldown runs the intercooler pump and radiator fan to lower the temperature of the supercharger air cooler.
To warm up the tires before the race, available Line Lock holds the front brakes down so you can spin your rear tires and burn some rubber as you wait on the tree light to turn green.
LAUNCH CONTROL WITH LAUNCH ASSIST
Enjoy the ability to set the RPM when you want to jolt into first gear by using the available Launch Control with Launch Assist.
This sport-tuned performance suspension upgrade includes springs, sway bars and Bilstein® high-performance shock absorbers. Lowered half an inch, it works in tandem with steering calibrations for sportier handling and an enhanced driving experience.
HIGH-PERFORMANCE SUSPENSION 
The high-performance suspension available on the Dodge Charger continues to build off the sport-tuned suspension, highlighting Bilstein® high-performance shock absorbers, vastly improving balance, cornering ability and steering responsiveness.  
WIDEBODY COMPETITION SUSPENSION 
For that consistent track feel, the Widebody competition suspension automatically adjusts the vehicle's suspension in response to changing road conditions.
ADAPTIVE DAMPING SUSPENSION 
Catering to your ride preference, this suspension includes a Three-Mode Active Damping System, allowing you to choose from Auto Mode, Sport Mode and Track Mode.
ELECTRONIC POWER STEERING
Standard on the Dodge Charger is Electronic Power Steering with Sport, Normal and Comfort modes. Available modes–Track, Sport Auto and Custom–are available on SRT® models.
The 2023 Dodge Charger features Launch Control and Traction Control, readily available to keep you at high performance levels on nearly all surfaces. To further optimize your control, you can customize your transmission, traction, suspension and steering settings.
Valet Mode will limit tampering with multiple settings, including drive modes and launch control, to keep the integrity of your beast stable when it's in the hands of a friend or valet driver.
Eco Mode adjusts the vehicle's engine and transmission settings to help maximize fuel economy when you're not pushing its acceleration and performance.
ELECTRONIC T-SHIFTER 
Up shift or down shift with the classic feel of the Electronic T-shifter, which displays the same look and feel of a traditional linkage shifter.
AVAILABLE PADDLE SHIFTERS 
The available steering wheel-mounted paddle shifters, the TorqueFlite® eight-speed automatic transmission boasts top-of-the-line precision and efficiency.