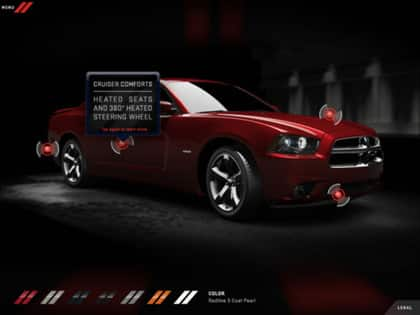 DODGE CHARGER APP
From the signature Dodge grille, to the racetrack style LED taillamps that span the width of the back end, to the choice of powerful, yet responsible engines, Dodge Charger is designed to grab attention. This touch-based app takes you through full 360° detailed exterior and interior vehicle tours with a colorizer. Learn about the tech-savvy features and brilliant interior offerings on the Charger.
Review specific information on the Uconnect® systems, performance capabilities and Safety & Security features, standard and available on Dodge Charger models
Visualize your Dodge Charger in any environment with Charger Anywhere
Request a brochure be mailed to you
Screen Shots
Features
HISTORY OF CHARGER
This timeline takes you on a 40-year journey, from 1966 and the launch of the first Dodge Charger production vehicle, to the rebirth of the muscle car in 2006. It gives you a glimpse, with photos and text, of the evolution of the muscle car, from brash, powerful classic, to sophisticated, high-performance standout.
BUILD & PRICE
You can choose your favorite Dodge Charger model and discover what features are included on it. Then pick your colors and select options. Next, review your selections, net price and monthly payment. You can then get a quote, find a dealer, view inventory, or change your mind and build a completely new Charger.